65% OFF - $47 BFCM DEAL ENDS IN...
THIS CHALLENGE HAS COMPLETED BUT YOU CAN STILL PURCHASE THE PROGRAM
PLEASE READ INFORMATION:
All programs will be sent directly to your email following your purchase. Please make sure to check ALL folders including (but not limited to) your spam/junk/promotions folders. If you notice the email hasn't appeared within 24 hours please email or dm @imrocksolid_fitness for faster customer support.
*once you purchase this plan there are no exchanges or refunds - no exceptions
de·tox
A process or period of time in which one abstains from or rids the body of toxic or unhealthy substances; detoxification.
Detoxification — or detox — is a popular buzzword.
"Detoxing" typically involves following a specific diet or using special products that claim to rid your body of toxins, thereby improving health and promoting "weight loss". Fortunately, your body is already well-equipped to eliminate toxins and doesn't require special diets or expensive supplements to do so. Within this 15 Day Detox Fitness challenge, we will help boost our body's NATURAL detoxification system.
THIS PROGRAM WILL FOCUS ON:
Full body detox that will help rejuvenate your body
Being more active w/ workouts featuring @iamkaylanicole
Limiting alcohol consumption
Focusing on more sleep
Drinking more water
Reducing sugar intake and processed foods
Consuming antioxidant rich foods (fruits, nuts, veggies)
Decreasing salt intake (eliminating excess water)
Plus more helpful natural detoxing tips!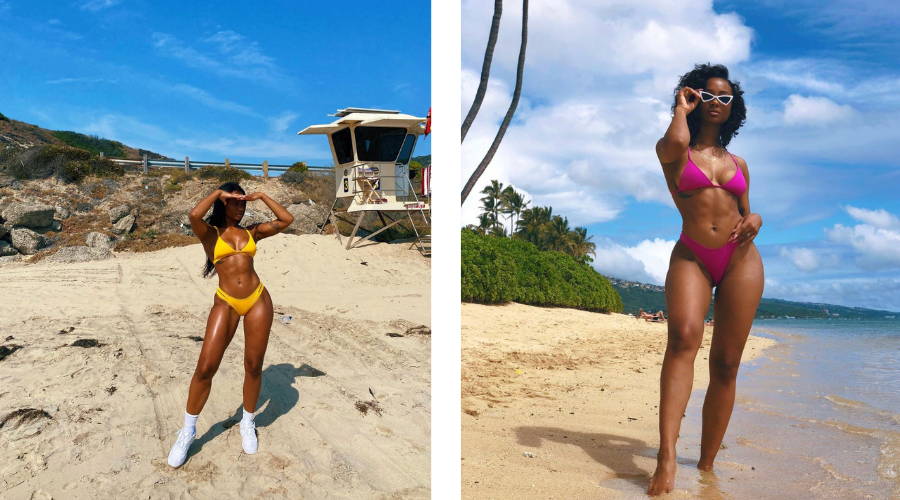 ALL DETOX WORKOUTS WILL NOT NEED GYM ACCESS.
Workouts included in this program will be "full videos". The videos will either have a countdown of the reps or time, so you'll be able to
fully workout ANYWHERE alongside Kayla throughout the entire workout! Train at home, gym group training room, or outside at the park.
*Limited equipment is recommended to help maximize the intensity/effectiveness of your workouts.
LIMITED EQUIPMENT RECOMMENDED
*Modifications will be provided as needed.
-Pair of Dumbbells (2) Light for Upper + (1-2) Heavier for lower
-Booty Bands (light, medium, &/or heavy resistance)
-Ankle weights
-Jump rope
-Workout/Yoga type mat for comfort
-At least 5x5 feet of clear space for workouts
Even if you do not have all recommended pieces of equipment, you will still be able to modify the workouts as needed & have EFFECTIVE INTENSE WORKOUTS.
AMAZING RESULTS IN JUST 2 WEEKS!
WHY YOU WILL LOVE THIS QUICK 15 DAY CHALLENGE:
Summer is about over, it's time for a quick detox to recharge!
Will help you RESET, REGROUP, RELOAD for the rest of the year
All workouts include full length videos w/ clear voice over details by @imrocksolid_fitness.
Voice overs breakdown the workouts + give modifications to make the exercise easier/more difficult.
Developed for all fitness levels looking to jumpstart/refresh their current fitness routine.
Full Body focused workouts for enhancing your glutes, lower/upper body, waistline, core/abs + development of lean muscle for more shape/curves in all your goal oriented areas.
Quickly demolish back fat + excess fat along stomach/waistline with "healthier eating" customized nutrition plan.
1. What if I'm trying to "gain" weight?
The amazing truth about these programs is that no matter your personal body goal, these workouts, nutrition plan & program structure will help you no matter if you're looking to "gain" or "shed more fat" than the next person. With any fitness plan it isn't about adding FAT, & we can't "spot target" a certain section of our bodies. That's not how it works, but this will bring out the best shape and body for YOU. Stick to the plan, and trust me.. You will enjoy the results acquired within this program.
2. Can workouts be modified?
Whether you don't have a certain piece of equipment like dumbbells for example, all workouts can be modified using another source or just simply using your body weight. Voice overs in each workout will give you the direction needed to modify every workout for your own use.
3. Is this for beginners?
Every program created by @imrocksolid_fitness will be a challenge no matter your fitness level. Beginners - Advanced will all be pushed each workout; will it be tough? Absolutely! But will you get the results you're looking to achieve if you follow this program exactly how it's created? Yes! Be prepared for the challenge because these results will not come easy.
4. Does this program come with a meal plan?
Yes, of course. A breakdown of your protein, complex carbs, vegetables & more will be given + a grocery/shopping list so you'll know what to grab for your meal prep. Customizable meal plan options are given based on your personal diet preference (General, Vegan, Vegetarian, Pescatarian, etc.)
5. Can we use this program in the gym too?
Yes, all workouts can be taken and used wherever you like; including the gym too. Just because it's filmed or recorded outside of a gym, these workouts can be 100% successfully modified and used in a gym setting.
6. Does the ebook erase after 30 days?
Once you receive your ebook through your email, please SAVE the pdf to your phone, desktop, ipad, etc. The email you receive will not be available forever, but if you save the ebook (for example) to your iBooks; you will have access to this ebook for as long as you wish. But if you delete the ebook, then of course the pdf will no longer be accessible.
7. I purchased program but didn't receive it yet
Please make sure to check all folders in your email. A lot of the time your email security will think this is a "promotion or spam" so be sure to check your promotions folder first, that's where it's sent the majority of time. But also check your spam, junk, trash folders too. If your email server doesn't have a promotions folder try opening your email through a different browser that has promotions folder access.
8. I'm not seeing results! What am I doing wrong?
Results are not easy! Even though you've seen these crazy 30 day results, everyone is still different and reacts differently. The person that you see with the UNBELIEVABLE results more than likely followed the "healthy eating" guidelines, meal prepped weekly, performed their workout sets to the best of their abilities, didn't eat (too many) cheat meals or consumed alcohol regularly, didn't complain or make excuses, followed the program exactly how it was created, never skipped a workout and so on. But, if you want MORE results than you'll have to dig deep and PUSH HARDER. Do more positive actions & we promise more positive results will come.
*once you purchase this plan there are no exchanges or refunds - no exceptions